How can conflict lead to change?
High fidelity by Nick Hornby is written as a middle-aged man's voice in the mid-90s in London. A story follows memory, love, and music.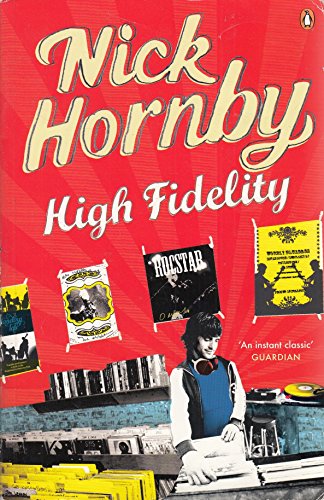 At the beginning of the book, Rob Is hit by his breakup with his girlfriend, Laura. And he begins to trace back to his top five breakups in order to find why he's always unlucky in relationships. Rob Fleming, a thirty-six years old man who is going through a middle-life period and owns a record shop. Rob has no specific orientation in life, and he doesn't set goals for his future. At his age, he supposed to work hard to build on his own financial stability. Yet, he chooses to live in the moment, even he is not satisfied with his current situation. Rob runs a small record shop without actually getting much profit; he borrows a large sum of money from Laura and has not yet repaid any of it. After their split-up, he blames Laura for its genesis, and he keeps aimed at Ian as who Laura leaves him for. Rob can't bear to be the rejected man, while stupidly redeeming and harassing her with phone calls.  And Ian is just someone that helps Laura getting out of the frustration. However, the basic cause of the separation is just Rob never face up to the reality; he chooses to ignore to plan for the future; he chooses not to develop his potentials; he chooses not to work hard; he chooses not to make any commitment to Laura. Rob clearly knows what he does to Laura; He confessed: "I slept with somebody else while she was pregnant." "My affair contributed directly to her terminating the pregnancy." (Pg.46) After the conflict, he doesn't make up for any of his mistakes, instead, he keeps entangle with Laura and the Ian thing. Therefore, Rob realizes: if he has no plans for his own future, how can he plan for his and Laura's future? Somehow, he starts to sort through his top five breakups, he starts to think and reflect on himself. It all happens after Laura dump him, so he starts to reorganize his feeling to Laura. On Pg48 from the book, Rob claimed: "I'm not going to tell her that all this is a way of regaining control, that I don't know if I love Laura." His feelings for Laura are ambiguous. But in my opinion, if Laura does not mean that important to him, he wouldn't start to seek why he always fails on relationship after breaking up with Laura; Rob wants to change at this point. Rob gets to feel the pressure when he met Charlie (one of his top five breakups) after their breakup for years. Rob compares himself with Charlie's friend, he views them through sheer envy, and he questions: "Why isn't my life like this?" Charlie and her friends are successful. And he knew success is all based on hard work and commitments.
When Laura's dad dies, Laura asks Rob to go to the funeral. Eventually, they realize they want to get back together but only on the condition that Rob changes his ways and focuses on his top five dream jobs. At the moment when Rob and Laura finally decided to get back together, Rob understands the importance of commitment to himself and his lover, also he decides to contribute sincere love to Laura. He realizes the plan for future and dreams is to be responsible for himself while turning plans into commitments is to be responsible for his love and their relationship. Before experiencing the conflict, Rob doesn't leave himself space to think about the future, because he is used to staying in his comfort zone, a non-outstanding comfort zone. And his conflict with Laura gives him time to reflect, reorganize, and plan independently. Just because Laura's rejection leads him out of his comfort zone, when he first steps out of it, Laura guides him to a new starting point in his life. In Rob's case, setbacks from relationships made him a better man.