Breakfast: http://www.food.com/recipe/sublime-scrambled-eggs-by-gordon-ramsay-423955
You should be warned that after eating these eggs, you'll never want those overcooked tasteless eggs most people prepare ever again! If you have a hard time finding the Creme Fraiche, you can substitute it with sour cream. The key to making creamy, fluffy scramble eggs is the technique.
6 large eggs
3 tablespoons butter, diced (ice-cold)
2 tablespoons creme fraiche
freshly ground sea salt and pepper (you can use regular salt if you need to)
3 chives, snipped (substitute with green onion if necessary)
3 slices , rustic bread to serve (such aspain Polaà ne)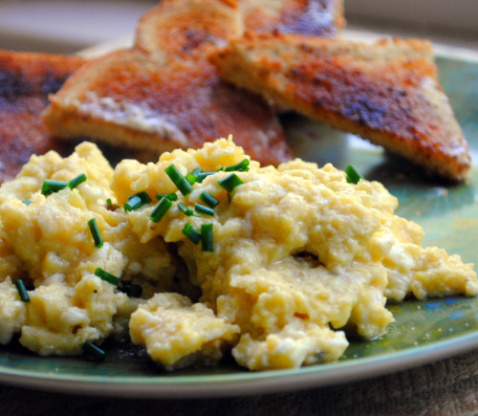 Lunch: http://www.eggs.ca/recipes/shrimp-and-egg-fried-rice
This quick and easy lunch solution uses scrambled eggs, leftover rice and frozen shrimp. It's perfect for any night of the week.
eggs

1/4 tsp (1.25 mL)

salt

1/4 tsp (1.25 mL)

pepper

3 tbsp (45 mL)

canola oil

1/2 lb (0.3 kg)

small, frozen, peeled and deveined shrimp, thawed (31/40 count), tails removed

2

cloves garlic, minced

3

green onions, sliced

2 cups (500 mL)

leftover cooked long grain rice (cold)…click the link to see more.
Dinner: http://www.jamieoliver.com/recipes/eggs-recipes/quiche-leekraine/
This dinner is eggstrordinary. it can serve 4-6 people perfect for small get togethers isnt that….eggcellent.
300 g leeks
olive oil
3 slices of higher-welfare smoked streaky bacon
75 g Cheddar cheese
3 large free-range eggs
250 ml milk
1 x 20 cm precooked pastry case
green salad , to serve