I interviewed Kevin Van Veen, a third degree black belt in Tae Kwon Do and a Brown belt in Brazilian Jiu Jitsu. He owns his own Family Martial Arts Association in Port Coquitlam. He is the head instructor at 'Fremont Martial Arts' Port Coquitlam location. He is a qualified instructor in Tae Kwon Do and Jiu Jitsu and has competed across North America.
I chose to interview Mr. Van Veen because he has had a big impact on my life. I started Tae Kwon Do 8 years ago and since then, Kevin has trained me in both Tae Kwon Do and Jiu Jitsu. I am now a qualified instructor at 'Fremont Martial Arts' because of what Mr. Van Veen has taught me. He has taught me to be a strong leader and a positive role model in my community, as well as on the mats.
I learnt that even the strongest people have struggled to get where they are. My instructor had to face many challenges to start his own business and train to become a qualified martial artist. He has worked very hard and his perseverance inspires me to do my best in everything I do. I am extremely passionate about Martial Arts and I hope to continue as an instructor and as a student of Mr. Kevin's.
This interview has given me the opportunity to see what it would take to start my own business and become a full-time instructor. My instructor showed me that if you do what you love, you will be able to accomplish many things. He is my role model and will always be someone the I look up to. I am proud to be a student of his and to be able to teach along side my instructor.
I would like to say thank you to Mr. Kevin for giving me an opportunity to ask hi some questions and give me further insight into his life as a business owner. I appreciate him and what he has done for me as an instructor, a student and even as a person.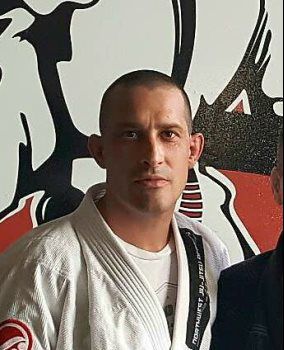 Kevin Van Veen's words:
1) Why are you passionate about your job?
I like what Martial Arts does for me emotionally and physically.  Allowing to see others benefit from it is incredibly rewarding.
2) What obstacles have you faced to get where you are today?
Risk.  You are betting it all becoming self employed.
3) What advice would you pass on to someone interested in what you are doing?
Both feet in.  Don't let anyone dissuade you from the belief you have in yourself.
4) Would you be open to further contact from Riverside students about your job and if so, how can they reach you?
Yup.  Email is best.
5) How has your career changed your life?
Freedom.  I work 25 hours a week doing what I love, with the people that I love surrounding with positivity.
6) What are you most proud of throughout your journey?
Perseverance.  Only the strong are able to live their dream.
Website:
https://www.fremontmartialarts.com/
Instagram:
https://www.instagram.com/fremontmartialarts__bjj_tkd/?hl=en
One class I teach: