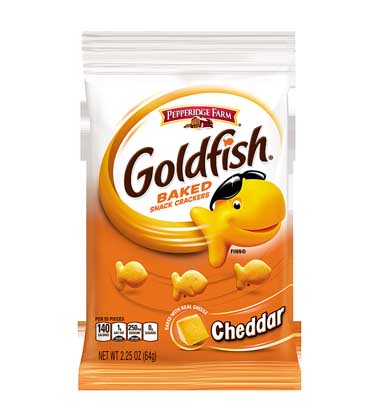 Goldfish crackers
I enjoy eating goldfish because of its salty and cheesy flavor. It is a comfort food, and a quick and easy snack. I like eating goldfish on the go, or as a snack with my main meal. Goldfish are a small fish shaped cracker cheddar flavor. the crackers are covered in salt that makes the flavor salty.
Quantity
When I eat goldfish, I usually eat 1 package, containing 55 crackers.
Calories
Goldfish contain 140 calories for every 55 pieces.
Goldfish have 5 grams of fat, which is 8% of the daily recommended serving.
Ingredients:
UNBLEACHED ENRICHED WHEAT FLOUR (FLOUR, NIACIN, REDUCED IRON, THIAMINE MONONITRATE [VITAMIN B1], RIBOFLAVIN [VITAMIN B2], FOLIC ACID), CHEDDAR CHEESE ([CULTURED MILK, SALT, ENZYMES], ANNATTO), VEGETABLE OILS (CANOLA, SUNFLOWER AND/OR SOYBEAN), CONTAINS 2 PERCENT OR LESS OF: SALT, YEAST, SUGAR, AUTOLYZED YEAST, LEAVENING (BAKING SODA, MONOCALCIUM PHOSPHATE, AMMONIUM BICARBONATE), PAPRIKA, SPICES (CONTAINS CELERY) AND DEHYDRATED ONIONS.
Additives:
In goldfish, there are vegetable oils that contain chemicals, pesticides, and rancid oils. Some of the oils they use contain genetically modified organisms.
Goldfish contains autolyzed yeast. Autolyzed yeast is a form of MSG, that enhanced the flavour of the food.
Annatto is used to colour to the goldfish crackers
Monocalcium phosphate are put in the crackers to make them last, and adds air bubbles. Leavening agent.
Ammonium bicarbonate adds chemicals to the crackers. Leavening agent.
Thiamine Monontrate enriches the crackers.